Digital Marketing Project Manager – 10 -20 hours/wk- 2021- 2022 –
Remote / Toronto / Montreal
Tech for Good Canada (Techno Etik en français) is a young non profit group of individuals: tech professionals, researchers and citizens pursuing education, outreach and advocacy efforts in Canada to ensure digital technology preserves and even enhances our democratic societies' values, in particular youth and consumers rights, as well as privacy rights. 
We are devoted to developing educational actions furthering the design and use of technology that benefits Canadian citizens as regards their learning, independent thinking, a sustainable planet and mental health. For youth, this applies both in school-like settings and in leisure settings.
This includes supporting tools and best practices for efficient tech-enabled learning and abiding by best-in-kind privacy-by-design thinking and informed consent. Our actions are on a national and international scale.
We develop these efforts in both English and French.
We are seeking a digital communications project manager for the 2021 – 2022 school year. This role focuses on social media community management (in particular on Tik Tok and Instagram), email marketing and web site updating.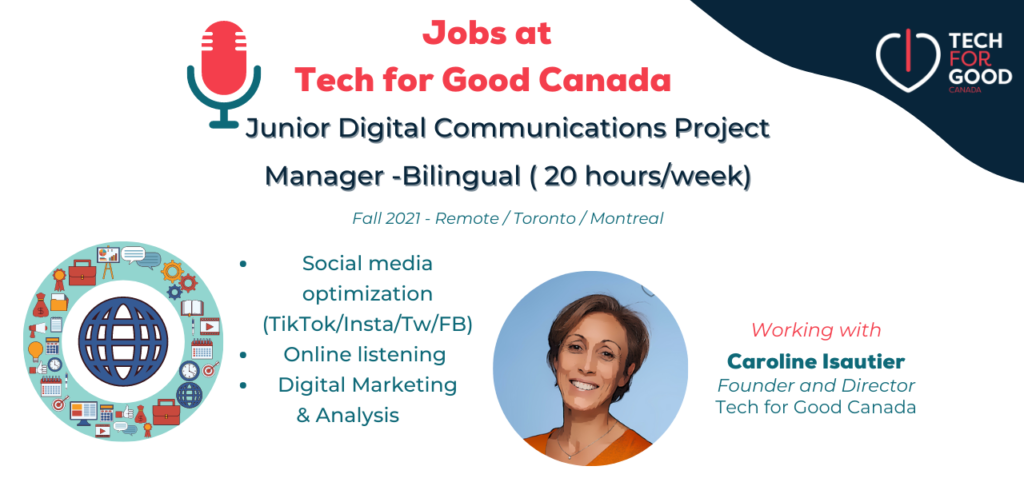 Key Responsibilities
Write, edit, publish digital content for website, presentations and social media platforms (Instagram, TikTok, Facebook, Twitter)
Social media content creation- work with the Director to brainstorm, plan and help create engaging organic social media content for social media platforms
Support the development and execution of a wide range of communications materials (email communications, presentations, surveys, videos, website content, social content, etc.), while learning and understanding brand guidelines.
Support the organization of virtual and offline customer events
Perform analysis of web site traffic and engagement on social media platforms.
Develop, implement and evaluate communications strategies
Digital market research- identify opportunities to inform our digital marketing strategy by researching the market, customers, and competitors
Potentially plan and help organize digital marketing campaigns related to SEA, social media advertising, email marketing to increase engagement, visibility
Reporting:
Tech for Good Canada Director
Skills and Background :
Well-rounded, tech-savvy individual enrolled in a business or liberal arts degree, with an interest in critical digital literacy and online privacy protection. 1rst year and above.
Familiar with the basics on digital marketing ( SEO, SMO, Email marketing) and personal user of social media – Tik Tok and Instagram in particular.
Confortable with Marketing Tech tools, including graphics editing tools like Canva, a CMS like WordPress and basic video editing. A quick learner is also ok.
Bilingual in French and English is ideal.
Place of Work:
Remote during Covid-19. Working with staff in France and Toronto, Canada.
Hours :
Part time : 10 to 20 hours/week.
Apply:
If this sounds like a fit, please contact us through our site and send us a link to your Linkedin, any content and accounts you have online, and a bilingual letter or a 1 to 3 minute audio only or video about your interest in the role.
Answer these questions in particular:
How do you see Tech for Good Canada's mission ( in your words)?
How does your experience fit the digital marketing role?
Employment Type
Part-time contract.