This December 19, 2022, the US FTC (Federal Trade Commission) announced Epic Games must pay a $520 million fine due to deceptive design practices and privacy violations in their Fortnite video game. Cam Adair, the well-known video gaming addiction advocate broke the news to me, using the visual below.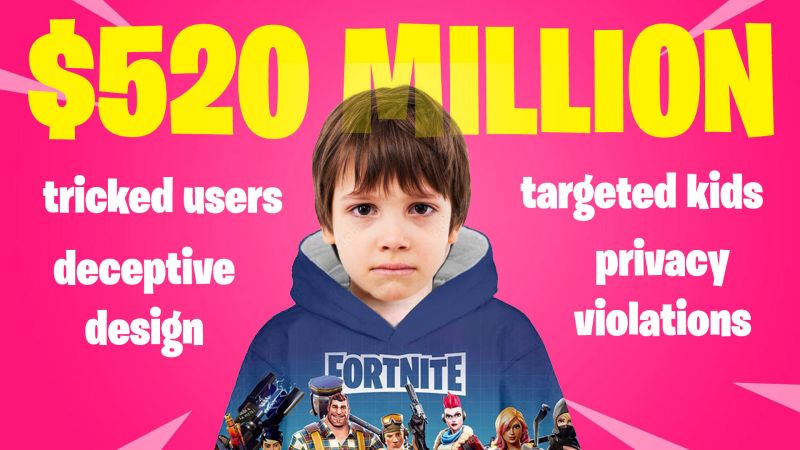 Largest Video Gaming Dark Design and Privacy Fine for Epic Games' Fortnite
This is the largest ever settlement involving dark patterns
Epic Games knew many children were playing Fortnite, but failed to obtain parents' consent
Epic also deployed dark patterns to trick users of all ages into inadvertently making purchases on in-game items
Fortnite will be required to adopt stronger 'default' privacy settings for children and teenagers
Epic Games have accepted the settlement, stating :
"No developer creates a game with the intention of ending up here […] and we want Epic to be at the forefront of consumer protection and provide the best experience for our players."
This fine comes after a class-action lawsuit was authorized in Quebec, Canada, against Epic Games and Fortnite for being intentionally designed to be addictive. We wrote about it here (French).
Read the FTC Fortnite complaint for details on the numerous tricks played on children and parents to prevent them from being informed of the legal age for Fortnite, of the need for parental consent and of the presence of in-game purchases, among others.
Settlement is Eleven Percent of Epic's 2021 Revenue
The quarter billion dollar settlement comes to about 11% of the publisher of Fortnite, Epic Games' 2021 revenue of 5.8 billion dollars ( estimated in this report from BusinessofApps).
The public got an insight into Epic's 2018 and 2019 profit and loss figures and margin during its lawsuit against Apple for its App Store practices of charging a 30% commission on all in-game purchases. CEO Tim Sweeney added in his court testimony that Fortnite generated $5.1 billion in 2020.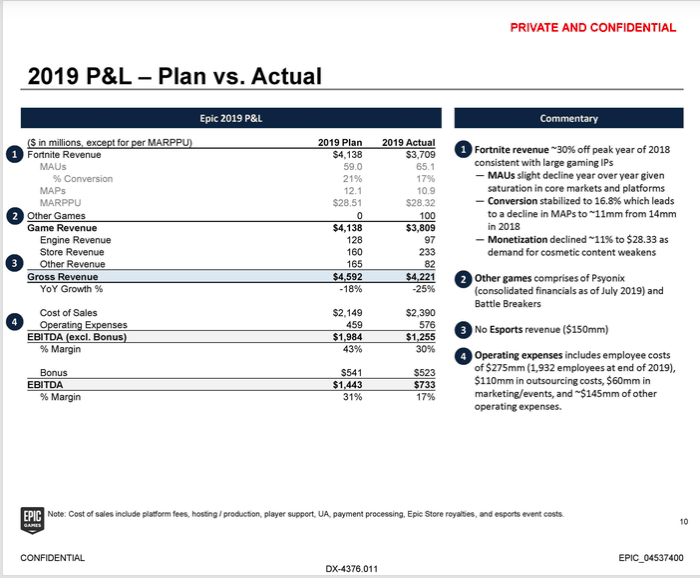 The P&L above shows $US 3.7 billion revenue from Fortnite in 2019 and a $US 1.25 EBITDA or cash flow, making for a cushy 30% margin on revenue.
The payment to the FTC could therefore represent about 34% of the net cash generated by Fortnite in 2020 ( $US 520 million out of $US 1.5 Billion EBITDA). This is only a portion of huge profits since 2017, the year the game was released, where it generated a total of $US 20 Billion in revenue for years 2018 to 2021 (Source: Business of Apps) but still sends a strong signal to Epic Games to wisen up in its attitude towards children online.
How Much for Refunds of Fortnite Players ?
Epic Games will pay $275 million for "violating children's privacy law", in addition to another payment of $245 million in refunds for "tricking users into making unwanted charges" within Fortnite's in-game store.
Trying to calculate how much a registered Fortnite user will get comes to about $3, as there are 400 million registered users.
When calculating how much an active Fortnite user will get, the figure comes to about $62, as estimates of concurrent users are at 4 million in 2022.
During certain events like the Chapter 2 Season 5 Galactus event in December 2020, Epic Games announced 15 million concurrent Fortnite users.
Epic Games sporadically releases these sorts of gamer figures but no outside oversight exists to verify them.
In any case, only a fraction will request a refund so those players that do could see a refund totalling the $ 1 500 a player spends on average yearly on Fortnite ( according to Epic Games).
Consumers who believe they were unfairly charged for in-game purchases can go to a website to be set up by the FTC to request refunds. Check this URL for updates: https://www.ftc.gov/fortnite. It is likely to take several months or longer to process those claims, the FTC said.
"As our complaints note, Epic used privacy-invasive default settings and deceptive interfaces that tricked Fortnite users, including teenagers and children," Lina M. Khan, FTC Chair, said. "Protecting the public, and especially children, from online privacy invasions and dark patterns is a top priority for the Commission, and these enforcement actions make clear to businesses that the FTC is cracking down on these unlawful practices."
Fortnite to Change its Default Settings to Better Protect Minors
The FTC's claim mentions "Fortnite's counterintuitive, inconsistent, and confusing button configuration," leading to accidental purchases, along with alleging that Epic Games revokes access to "thousands of dollars" worth of content on a player's account if they dispute unauthorized credit card charges.
Players could, for example, be charged while trying to wake the game from sleep mode, while the game was in a loading screen, or by pressing a nearby button when simply trying to preview an item, it said.
"Epic put children and teens at risk through its lax privacy practices, and cost consumers millions in illegal charges through its use of dark patterns," Samuel Levine, director of the FTC's bureau of consumer protection, explains. "Under the proposed orders announced today, the company will be required to change its default settings, return millions to consumers, and pay a record-breaking penalty for its privacy abuses."
Earlier this month, Epic unveiled a new type of account it said was designed to provide a safe and inclusive experience for players under 13. Users who sign up for it can't access features such as chat and purchasing unless they obtain consent from a parent or guardian.
US FTC Actions Signal the End of Cyber Harrassment from Big Tech Companies
This has been a long awaited move to clean up Big Tech practices from Lina Khan, the FTC chair since mid 2021.
The FTC has been increasing enforcement against companies with websites or apps that make it easy for consumers to make unintended purchases and difficult for them to get refunds. Last month, Ericsson AB subsidiary Vonage agreed to pay $100 million to settle FTC allegations that it created a web of obstacles for its customers to cancel its internet-based telephone service and charged unexpected termination fees. The penalty was the agency's biggest involving dark patterns before the Epic case.
YouTube and TikTok agreed to settlements with the FTC after being accused of violating the children's online privacy law in 2019. YouTube, a unit of Alphabet Inc.'s Google, paid a $170 million penalty. This was a record fine for a COPPA violation, also up until the Epic settlement.
This Wall Street Journal article asks Lina Khan about the agency's anti trust approach here.