We're beginning here a repository of media articles on the impact on mental health of kids or teens using cell phones, notably to access social media and YouTube.
Meet the parents who refuse to give kids cell phones: May 9, 2022 in The Washington Post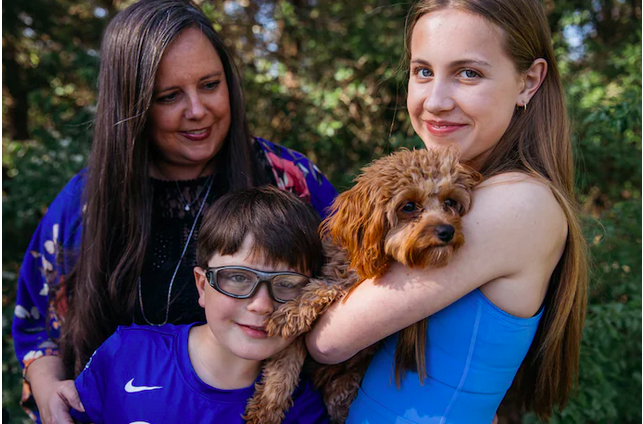 For Adriana Stacey, it's very simple.

"I'll never buy a smartphone for any of my children," she says.

It's a personal stance born of professional experiences. Stacey is a psychiatrist who works primarily with high school and college students in Fayetteville, Ark., and in her practice she routinely asks new patients to swipe open their phones and show her how much screen time they're clocking per day.

"I rarely find one that's under nine hours," she says. "So, these teenagers are spending more time on their phone than they are sleeping."
Teens are flocking to the new Video sharing apps, but are they safe ? May 16, 2022, Washington Post
Its life or death: The mental health crisis among US teens, April 2022, The New York Times
One evening last April, an anxious and free-spirited 13-year-old girl in suburban Minneapolis sprang furious from a chair in the living room and ran from the house — out a sliding door, across the patio, through the backyard and into the woods.
Moments earlier, the girl's mother, Linda, had stolen a look at her daughter's smartphone. The teenager, incensed by the intrusion, had grabbed the phone and fled. (The adolescent is being identified by an initial, M, and the parents by first name only, to protect the family's privacy.)
Linda was alarmed by photos she had seen on the phone. Some showed blood on M's ankles from intentional self-harm. Others were close-ups of M's romantic obsession, the anime character Genocide Jack — a brunette girl with a long red tongue who, in a video series, kills high school classmates with scissors.

In 2019, 13 percent of adolescents reported having a major depressive episode, a 60 percent increase from 2007. Emergency room visits by children and adolescents in that period also rose sharply for anxiety, mood disorders and self-harm. And for people ages 10 to 24, suicide rates, stable from 2000 to 2007, leaped nearly 60 percent by 2018, according to the Centers for Disease Control and Prevention.
For a series on Mental health, Parents & Teens had questions too, April 2022, The New York Times
Her story gave me pause. She had been hospitalized and treated, but nothing particularly stood out to me as the cause of her intense anxiety and depression. I had heard a sufficient number of stories like hers to realize that something was missing. Then the girl turned to her mother and asked, "Would you mind if we spoke alone?"
Her mother agreed and stepped outside. The teen then revealed intense personal details of her struggle that she hadn't yet been prepared to share with her mother for fear of causing worry. The mother later told me that she felt something good — "something very therapeutic" — had come from the interview. The parts of it that she had listened to confirmed what her daughter had told her, and my engagement with the family and previous reporting helped her to better understand the issue, she told me.
A social media diet of perfect bodies is spurring some teenage boys to form muscle dysmorphia, March 2022, The New York Times
Like many high school athletes, Bobby, 16, a junior from Long Island, has spent years whipping his body into shape through protein diets and workouts.
Between rounds of Fortnite and homework, Bobby goes online to study bodybuilders like Greg Doucette, a 46-year-old fitness personality who has more than 1.3 million YouTube subscribers. Bobby also hits his local gym as frequently as six days a week.
"Those guys made me realize I wanted to get bodies like them and post stuff like them," said Bobby, who has fluffy curls of dark hair and the compact frame of a gymnast.
Lawmakers urge the head of Instagram to better protect teens, Dec 2021, The New York Times
WASHINGTON — Lawmakers of both parties came out swinging in a hearing on Wednesday with Adam Mosseri, the head of Instagram, expressing deep skepticism and anger toward the company for not doing enough to protect young users.
In a hearing held by a Senate subcommittee on consumer protection, lawmakers grilled Mr. Mosseri on internal research leaked by a whistle-blower that showed Instagram had a toxic effect on some teenagers. They pressed him to commit to share data with researchers on algorithmic ranking systems and to support legislation for stronger privacy and security protections for children online.
State attorneys general open an inquiry into Instagram's impact on teens, Nov 2021, New York Times

The states were examining whether the actions of Facebook, now called Meta, violated state consumer protection laws and put the public at risk.
Facebook Struggles to Quell Uproar Over Instagram's Effect on Teens, October 2021, The New York Times
The social network has been all hands on deck as it grapples with revelations that it knew the harmful effects its Instagram photo-sharing app was having on teenagers.
Over the past few weeks, top Facebook executives assembled virtually for a series of emergency meetings.
In one gathering last weekend, half a dozen managers — including Adam Mosseri, head of Instagram, and Nick Clegg, Facebook's vice president of global affairs — discussed pausing the development of an Instagram service for children ages 13 and under, said two people briefed on the meeting. Mark Zuckerberg, Facebook's chief executive, weighed in to approve the decision, the people said.
The meetings continued this week, with a larger group that included Facebook's "Strategic Response" teams, which are overseen by Mr. Clegg and Sheryl Sandberg, the chief operating officer, the people said. The executives debated what to do about internal research around teenagers and Instagram, they said, and decided to publicly release some information but annotate it to add context.
Teenagers Say Depression and Anxiety Are Major Issues Among Their Peers, Feb. 2019, The New York Times
Some psychologists have tied a growth in mental health issues among teenagers to increased social media use, academic pressure and frightening events like terror attacks and school shootings.
Is your child a phone addict? Jan 2018, New York Times
Apple faces a shareholder backlash due to what phones may be doing to kids – Jan. 2018, The Washington Post
Teens and even younger children have flocked to the iPhone, helping to bolster the bottom line for Apple and its investors. Now, two of those shareholders are questioning the societal impact of putting iPhones into children's hands, warning that a lack of controls leads to smartphone addiction and a potential public-health issue. 
New York-based Jana Partners LLC and the California State Teachers' Retirement System, or CalSTRS, said Monday in open letter to Apple (AAPL) that the company must offer more choices and tools to help children fight addiction to its devices. The two investors together control $2 billion worth of Apple shares. 
My kid doesn't have a smartphone. Here's how it works, April 18, 2018, The Washington Post