ByteDance is the publisher of Tik Tok, a fun tool on the face of it to lip synch to videos and become world famous – but a powerful data collection and ecommerce tool on the back side. That has attracted lawsuits worldwide.
Tik Tok Sued Worldwide for Illegal Data Collection
The playful tool has attracted over 1.9 billion young active monthly users ( 12 to 25 mostly) and has taken data collection to new heights.
These are the law suits across the world against Tik Tok for illegal collection of data, especially children's data.
The plaintiffs accused TikTok of collecting users' biometric data without sufficient warning and using it to target content and ads on the app, a practice lawyers claimed was especially risky because ByteDance is based in mainland China.
In February, the BEUC filed a complaint with the European Commission and the network of consumer protection authorities against TikTok. It argued that several terms in TikTok's 'Terms of Service' are unfair and said the platform failed to protect children and teenagers from hidden advertising and potentially harmful content.
"The current pandemic has further accelerated digitalization," said Didier Reynders, the Commissioner for Justice. "This has brought new opportunities but it has also created new risks, in particular for vulnerable consumers. In the European Union, it is prohibited to target children and minors with disguised advertising such as banners in videos. The dialogue we are launching today should support TikTok in complying with EU rules to protect consumers."
Anne Longfield, the former Children's Commissioner for England and so-called "litigation friend", or public face, of an anonymous 12-year-old girl leading the class action, said on Wednesday that affected children could receive thousands of pounds each if the claim is successful.
Longfield alleged that every child that has used TikTok since May 25, 2018, may have had private personal information illegally collected by ByteDance through TikTok for the benefit of unknown third parties.
Such U.S.-style "opt-out" data privacy class actions, which bind a defined group automatically into a lawsuit unless individuals opt out, are rare in Britain.
The case has been put on hold while it awaits a UK Supreme Court ruling in a bellwether case against Internet giant Google (GOOGL.O) over alleged unlawful tracking of iPhone users in 2011 and 2012 through third-party cookies.
The Consumentenbond and a foundation called Take Back Your Privacy demanded Thursday that TikTok pay damages to 1.2 million to 1.6 million Dutch children who use the app.
"The conduct of TikTok is pure exploitation," Consumentenbond director Sandra Molenaar said in a statement. "The company earns hundreds of millions per year on the backs of children. And that while privacy law prescribes that children should receive additional protection."
Tik Tok Markets Coins to Children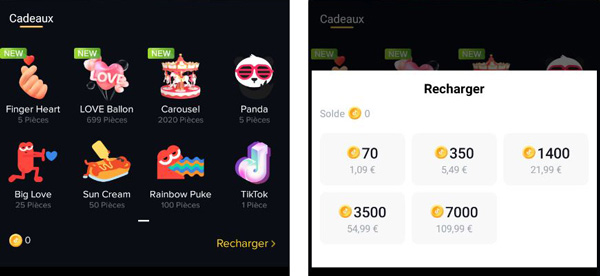 Tik Tok also has a booming business selling coins to its very young users through its influencers. Some of them have no qualms about offering their followers visibility in exchange for cash – presented as coins – during " live" events. Influencers are estimated to earn from hundreds to thousands of dollars during their " lives" depending on their following.
Young users think this is a way to gain recognition from the influencer they adore, making it a sick exploitation of young people by other young people.