As the media has conveyed, shutting schools to students has taken quite a toll on learning, parents' lives, and kids and teens' mental health. I started hearing horror stories from other friends who had school aged kids in March 2020, when schools in Ontario and most of Canada shut their doors to students. In Toronto, Canada's largest city, distance learning did not kick in until late at public schools, except for some school boards like ViaMonde, a francophone school board in Toronto that is quite tech-savvy.
When distance learning started after two weeks, it was only a very minimal version of teaching as it was. Adaptation to Covid-19 was understandably a challenge for teachers and administrators. Unfortunately, many parents, kids and teens seem to have paid a heavy price . Meanwhile, Ed Tech vendors are actively courting learning institutions, elected officials and professors to offer solutions that may or may not contain privacy safeguards or be the most suited to learning.
We should all be concerned and talk, among other things, about how to improve future distance learning, if Covid-19 comes back with a vengeance in the fall. Our goal is to create a neutral space for open discussion on how distance learning can be done well with expert practitioners, so as to be a viable alternative in the fall to full time in class teaching – in the interest of both youth and educators.
Our event June 23rd at 4 PM EDT will bring together experts and roughly 100 attendees on " How to succeed at distance learning in Canadian schools".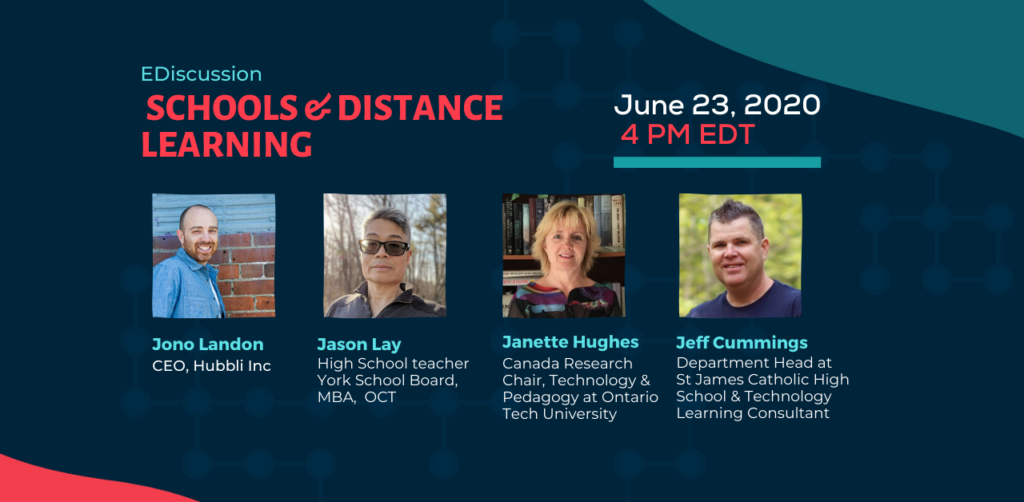 Experts will respond to our questions, as well as participants' questions for up to an hour and a half.
The format is a Zoom call that will run from 4 PM to 5:30 PM EDT. Registration is required ahead of time until the beginning of the call.
Expert Panel:
Janette Hughes :
Janette is Canada Research Chair in Technology and Pedagogy and Professor in Digital Literacies at the University of Ontario Institute of Technology where I teach and conduct research in the Faculty of Education. My research and teaching interests include: critical digital literacies, digital making, adolescent literacies and identity, writing and digital media, new literacies and conceptualizations of learning, and digital citizenship. Digital literacies encompass all conceptions of engaging in meaning-making, mediated by texts that are read, received, interpreted, produced and distributed through digital means. I am particularly interested in how digital media enable users to teach, learn, connect, collaborate, communicate, critique, create and promote social change.

Jason Lay :
Jason is an experienced teacher with a demonstrated history of working in K-12 and the post-secondary education industry. Skilled in Literacy, Classroom Instruction, Lesson Planning, Educational Technology, and Curriculum Development. As a classroom teacher he infused educational technology into the curriculum.
Strong education professional with a Bachelor of Education focused in Secondary Education and Teaching from University of Toronto – Ontario Institute for Studies in Education and a MBA and Post MBA focused on Marketing and International Business from York University – Schulich School of Business. He has presented at educational conferences on the various ways educators can integrate technology to facilitate and enhance student-directed, passion-based learning
experiences in K-12 classrooms. He continues to expand his PLN in the belief that a connected educator is a better educator.