I have been a fan of Apple products since the beginning and am angry at their strategy of iPhone planned obsolescence. Not only that, but its signature approach of privacy-by-design is not a reality anymore. I had some of the wonderful first MacIntosh computers, the Macintosh 2, the tangerine coloured iBook, the iMac of course. I let my creativity loose thanks to the Hypercard and PageMaker software native to the Mac. I turned to iPhones when they came out in 2007, and have been faithful since, admiring Jony Ive's and Steve Jobs' knack for design and client-focused innovation.
Apple's Planned Obsolescence makes iPhones Useless after 18 months
However, I've stopped buying new iPhones. Their life span has been steadily decreasing under Tim Cook's leadership, since 2012. Their batteries are now notorious for lasting a couple hours under normal operating conditions past the one year mark. How can this be, for a company coming out with a new version of their phone every year or so? This week was the last straw.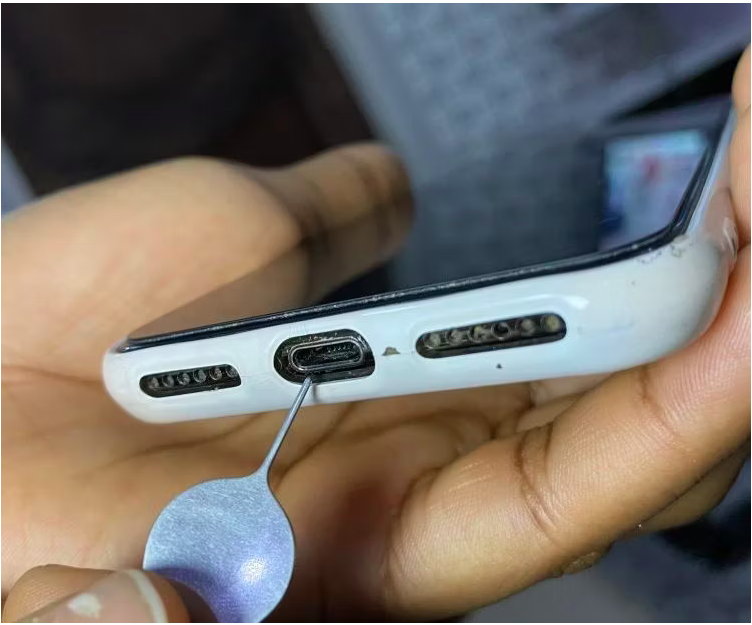 My refurbished iPhone 7 stopped charging. Its in pristine condition. After checking online, I saw that the charger connectors could be dirty and cleaned them. To no avail. I changed my SIM card to an Android-based Redmi Note phone I had on hand for these types of Apple deficiencies and went to an Apple store for an official diagnosis. Well, believe it or not, the 13 months old phone was no good anymore, said a "Genius"- as Apple service staff is modestly called. Some of the charging port's connectors were kaput. Why, he couldn't say.
Maybe they could change the connectors, I asked ? No, the phone was too old for that … He meant to say :" You're old news too, not to use our latest model XXX". I thanked him for that helpful response and said I'd stick with an Android phone from now on. This was the third time in four years I'd had an issue with an iPhone – all refurbished, yes, from Canadian shop Get Orchard, to avoid paying full price for a product good for less than 18 months.
I then went to a local phone repair shop in Aix-en-Provence, where I was staying, and asked for the same diagnosis. The technician – not a Genius himself but much more helpful – offered to change the connectors for € 69 ( about US$ 90) within the next hour and a half. I jumped at the opportunity and now have a working iPhone 7.
Needless to say this confirmed my view of Apple's downfall as a customer-focused company.
The HOP Group in France Denounces Apple's planned Obsolescence Practices
HOP, for "Halte à L'Obsolescence Programmée" ( "Stop Planned Obsolescence") is a non profit founded in France to fight the incredibly wasteful obsolescence of many smartphones, tablets and computers, all following Apple's lead.
It succeeded in obtaining a judgement and a € 25M fine against Apple in 2020 for the fact that the OS software upgrades it encouraged clients to download on iPhone models 6 to 7 simply made the phone stop working – the screen stopped functioning in particular. Apple repair simply told clients to get a new phone! All owners of Apple iPhones 6, 6S, SE and 7 can be assisted by HOP in demanding damages to Apple in France here ( French).
A recent documentary on France's channel 5, " Les Petits Secrets de nos Téléphones Portables" ( "Our Cell Phones' Dirty Little Secrets") features the huge environmental cost of switching cell phones every year to 18 months, in particular the mining of rare minerals like Nickel in New Caledonia and of Tantal in Congo. In fact, today cellphone and electronics recycling is very limited, given they're designed in such a way that taking them apart is not economically viable. The Fairphone is an OS agnostic alternative that proudly touts its "repairability".
The Digital Collage Workshop Helps Participants Share an Understanding of the Environmental Impact of Digital Technology
At Tech for Good Canada, we've chosen to facilitate a European born group workshop called the Digital Collage to help individuals and professionals assess the environmental impact of the digital ecosystem, from smartphones to streaming. Our ever growing digital habit is emitting 3 to 4 % of greenhouse gases, as much as the airline industry. And, as explained above, its also extracting larger and larger quantities of minerals.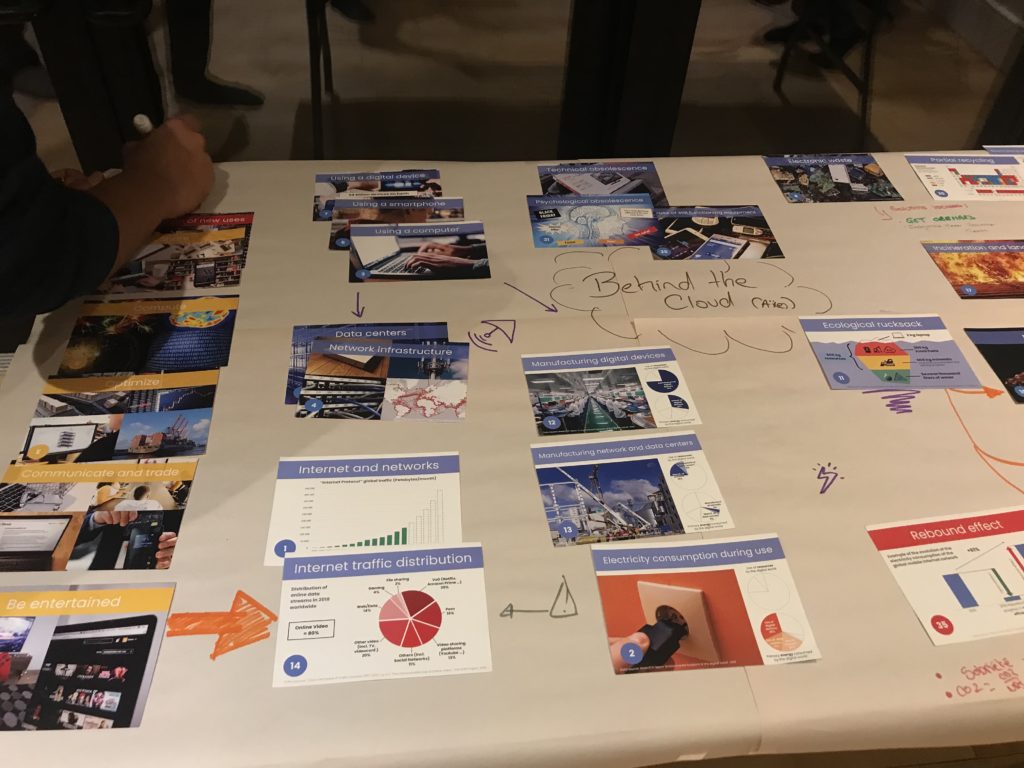 The three-hour long workshop uses a series of cards that are arranged by a group of 5 to 7 participants on a large rectangular table to tell this story, engaging in discussion as they do. Its a simple, interactive and meaningful way to be informed on digital devices' " dirty little secrets" and to try to act to minimize their impact on the earth and climate. They're available free of charge for individuals and for a nominal ( companies, no profits, schools and universities) fee for organizations in Toronto in 2023!
Can Apple be a leader again in an era of climate change ?
Apple's attitude is the one that's Old Guard. Making us consume relentlessly while touting its carbon offsets and recycling is Apple green washing – or " screen washing", as I call it. Its phones should last at least four years, much as Fairphones do. Not only would consumers get a bang for their buck, but Apple would stop pushing for the mining more and more beautiful wild regions of the world for those limited amounts of metal.
It should also go back to being committed to protecting our privacy versus simply preventing others from tracking us online while doing so itself, as this December 22 French privacy breach ruling ( along with a € 6 M fine) shows.