Reprinted from The Globe and Mail July 7, 2021, by Sean Silcoff – Sorry, its behind a paywall but I love this effort to educate on Canada's modest Tech approach. Its such a departure from the US Tech culture.
Shopify Inc. became Canada's most valuable publicly traded company during the pandemic, but some people still confuse it with Spotify. (Hint: Shopify provides online software used by merchants to sell their goods and manage their operations.) Test your knowledge of Canada's leading tech company: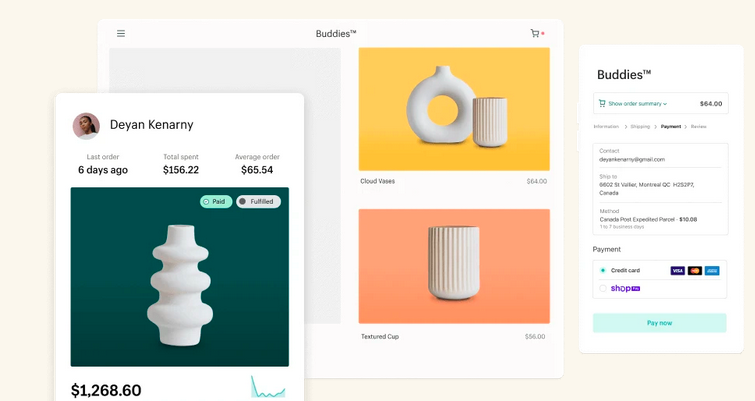 1. True or False:
a) Shopify's market capitalization (as of June 30) is greater than each of Pfizer Inc., Costco Wholesale Corp., Royal Dutch Shell PLC, Volkswagen AG and Citigroup Inc.
b) Shopify stopped placelining news releases from its hometown of Ottawa this year, replacing it with "Internet, Everywhere."
c) Shopify president Harley Finkelstein is a company co-founder.
2. The gross merchandise volume processed by Shopify's 1.75 million merchants last year was:
a) US$80-billion
b) US$100-billion
c) US$120-billion
d) US$150-billion
3. Shopify booked US$2.9-billion in revenue in 2020, but its partners, including affiliates and service providers to merchants, did even better. How much did they generate?
a) US$7.5-billion
b) US$10-billion
c) US$12.5-billion
d) US$15-billion
4. Shopify has raised more than US$4-billion in three stock offerings since May, 2020. What allotment of shares offered went to Canadian underwriters?
a) 2 to 4 per cent
b) 7 to 10 per cent
c) 20 to 30 per cent
d) 40 to 50 per cent
5. Shopify recently confirmed it invested more than US$350-million in which well-known Silicon Valley company?
a) Instacart
b) Stripe
c) Square
d) Reddit
6. Shopify reported a US$1.26-billion first-quarter profit, its largest ever. What was the single largest contributor to its bottom line?
7. If you had bought $1,000 worth of shares of Shopify at its peak price on the day it went public in May, 2015, what would they have been worth on June 30, 2021 (rounded to the nearest $100)?
a) $12,600
b) $25,200
c) $51,400
d) $113,800
8. Shopify CEO Tobi Lutke is not a big fan of patents. What did he recently tell The Globe and Mail an idea was worth?
a) One buggy whip
b) One Ottawa Senators scarf
c) One BlackBerry Ltd. share
d) One good bottle of scotch
Can Canada's red hot technology sector last? Loading…
Answers:
1. a) False. It is worth more than every company on the list except Pfizer. b) True c) False
2. c) 3. c) 4. a) 5. b) 6. The January IPO of Affirm Holdings Inc. Shopify booked a 10-figure gain on the value of its Affirm stake, received as part of a partnership agreement. 7. c) 8. d)