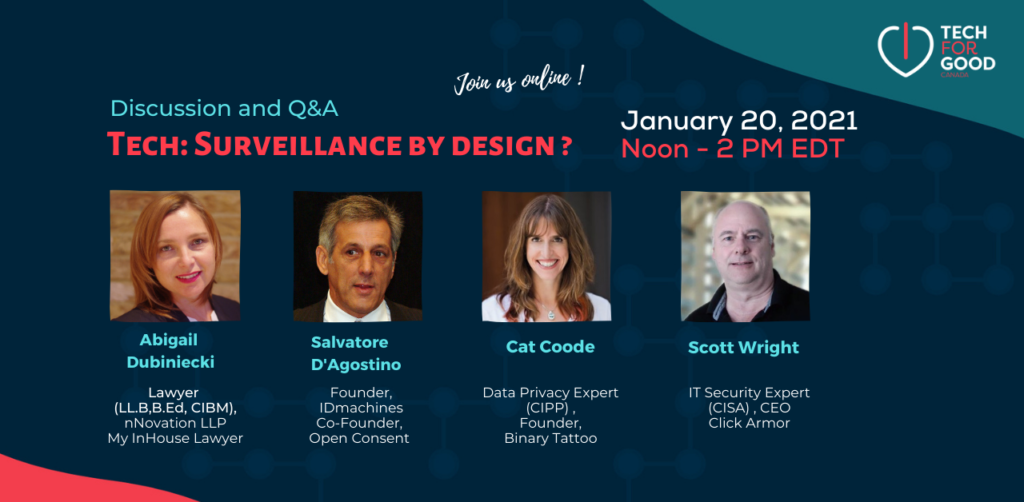 Join us January 20, 2021, from Noon to 2 PM EDT by signing up here for Tech: Surveillance by Design ?
See a detailed written ( and soon video) recap of the event here: The Why and How of Privacy by design in Tech deployment.
How do we, as managers and entrepreneurs, make sure we use information technology in a way that does not put our corporate responsibility and civil liberties in jeopardy?
From online teaching to home security systems, to personal digital entertainement, wearable tech and personal assistants, much of the Tech we use has surveillance without consent built in to it. While these tools offer great benefits and convenience, they also come at a significant cost to our privacy and other human rights.
With the Cambridge Analytica and Clearview AI scandals, the Social Dilemma movie featuring a scene reminiscent of the actual storming of the US Capitol and the major cyberattack against the US governement in December 2020, among recent Tech and data-related stories, 2021 will be the year privacy and security become top of mind for individuals, regulators, businesses and non profits.
Even if one has « nothing to hide », being continuously surveilled by companies, law or a government (or both!), means a loss of freedom and even worse, discriminatory treatment and persecution.
How do we, as managers and entrepreurs, make sure we use information technology in a way that does not put our corporate responsibility and civil liberties in jeopardy?

This is not only an ethical issue. Governments are slowly catching up to this, with the European GDPR, the California Consumer Privacy Act (CCPA) and, recently, the Canadian Privacy Protection Act ( CPPA), giving authorities the ability to impose large fines on companies that do not obtain consent to using individuals' data or who over-collect or use that data in unfair ways.

We'll discuss how to better understand our obligations with respect to data privacy and security as business leaders and how we should ask to be protected as individuals.
Format
The first hour will be, as per our Citizen Salon tradition, a lively open discussion with the experts, facilitated by our director Caroline Isautier, while allowing for questions and feedback via chat from the audience.
The second hour will offer the opportunity to go into 15 minute Q and A sessions from audience members with each of the experts. Questions will be answered on a first come, first serve basis from those in the chat starting at Noon so don't wait to join us!
We will in the end use video conferencing tool Zoom, given we found Livestorm, our alternative choice, to not be as reliable for a webinar.
The session will be recorded and made available publicly after the event.
Join us January 20, 2021, from Noon to 2 PM EDT by signing up below.
Participating Data Privacy & CyberSecurity Experts:
Privacy Lawyer : Abigail Dubiniecki , Counsel at nNovation (B.Ed., B.C.L., LL.B., CIPM, CIPP/E ), Data Privacy Specialist at My InHouse Lawyer
Abigail is a lawyer, certified privacy geek and Privtech enthusiast who speaks, writes, trains and advises on data privacy and data strategy issues. From the C-Suite to the customer service desk, I'm at ease communicating practical advice and trouble-shooting issues, whether in English or French.

Trusted Advisor: As a Data Privacy Specialist with My Inhouse Lawyer I help a portfolio of startups, microenterprises and scale-ups navigate the tricky regulatory terrain of GDPR and e-privacy to achieve their goals while enhancing stakeholder trust and de-risking the business.
Cybersecurity expert & surveillance entrepreneur : Salvatore D'Agostino, Founder of IDMachines, OpenConsent
Sal is a serial entrepreneur, co-founder of OpenConsent and CEO of IDMachines. Sal has designed and deployed intelligent devices and infrastructure over more than four decades including video surveillance and physical security, transportation and identity systems for government and enterprises around the world.
Data Privacy & Security Consultant : Cat Coode (CIPP) , Binary Tattoo
Backed by two decades of experience in mobile development and software architecture, as well as certification in Data Privacy Law, Cat takes companies from Privacy by Design (foundation level), through Data Protection Impact Assessments, up to full implementation of processes including handling user consent and an Incident Response Plan.
Information Systems Security Specialist & Entrepreneur : Scott Wright (CISA) , CEO, Click Armor
Based on many years of IT security and product management experience, I believe that awareness training requires a very different approach than what is used now in compliance training programs. So, our team is dedicated to becoming the first "Gamified eLearning" solution that provides interactive engagement for learning, exercises and assessment in a way that aligns employee and business objectives to reduce costs and improve corporate culture.
Background Resources
As a mainstream intro to today's Tech surveillance, watch « The Social Dilemma » on Netflix or during one of our Wednesday evening watch parties at 8:30 PM in January 2021.
« Nothing to Hide » is another documentary that presents how surveillance of the average Joe or Jane can be problematic. Its available free, on Vimeo:
Nothing to Hide film in English:
Nothing to Hide – The documentary about surveillance and you (2017) from NOTHING TO HIDE documentary 2017 on Vimeo.
Nothing to Hide is also available in English with French,Italian and German subtitles on Vimeo.
Readings & Ressources on GDPR, the California CCPA and the Canadian CPPA :
California CCPA Case Tracker: Zoom is among the companies accused.
Cigi: The Peril and Potential of GDPR